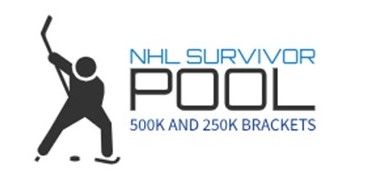 ---
Registration Starts Monday September 25th, 2023 @ 8AM EST.
Play our $500K (TOP 25 Prized Out) or our $250K (TOP 10 Prized Out) Bracket Survivor Pools for NHL Hockey. The greater the prize pool the greater the payout for being SOLE SURVIVOR! This season long contest requires you to pick a WINNING team for all 29 weeks of the season and not picking the same team in any week. Make the correct pick and continue on, make the wrong pick, well we will bench ya. To qualify your team each week as a "Survivor", your team must win 50% of their games each week. TOP prizes of $330,000.00 USD and $165,000.00 for a single Sole Survivor in each of the two brackets we run.
For all the Prizing with Rules and Regulations click here.
HOW to PLAY?
To play NHL Sole Survivor Hockey, is to know that it requires you to pick a team to WIN each week. Pick correctly and you advance onto the next week (Survive)! Make a mistake…..your team loses…..you're OUT (Eliminated). That's all you have to do….the challenge though is you can't pick a team twice in the same season and the team you do pick each week must win 50% of their games that week (for example if the Winnipeg Jets play 3 games in Week ONE, they they must WIN 2 of 3 games to be considered a Winner that week). So if you pick the Winnipeg Jets Week ONE and you advance, then the Winnipeg Jets are not available to you the remainder of the contest. So use your skills to make the right decisions, at the right time, and SURVIVE to the next week.
OOOHHH, a little tid bit of info for ya…….unlike all other survivor pools out there, we will be offering you a TWO weeks of non elimination choices in the first two weeks of the contest (Admin Picks). In our contest, we will extend the registration period into Week 2. Your Week 1 and Week 2 selections are then protected if you register and play before those weeks. You will automatically advance out of the week regardless if you made a pick or your pick lost or won.
How does all this work you ask……let me tell you! We have given you TWO Weeks of Non Elimination. The Week 1 and Week 2 selections in this case will be assigned the "ADMIN" pick at the end of the week. This way every contestant will advance regardless of their pick. So every contestant gets to Week 3 regardless if a pick was made, not made, winner or loser….all will advance
But here's the "ADVANTAGE" of early registration and making picks in Week 1 and Week 2! Make a pick for Week 1 and Week 2…..take a calculated risk by picking a longshot to WIN in Week 1 or Week 2. If your longshot comes through, then you will be awarded the WIN and therefore not have to use the ADMIN pick selection. Thereby leaving that admin pick available to you in other weeks of the contest.
For Example: Lets say we choose the Vegas Golden Nights as the ADMIN pick in Week 1. You have chosen the Arizona Coyotes to WIN in Week One. The Coyotes do indeed WIN 50% of their games in Week ONE, so you keep the Arizona pick and survive to the next week. Whereby, you don't use the admin pick and get to BANK that Vegas Golden Nights pick for another time…..at your discretion. All other contestants who HAD to use the admin pick to survive, do not have this option….so get your entry in early and make your best selections.
NOW…….Get in the "GAME"!